Erfolgreiche Teilnahme des TKD Junglinster an internationalem Tournier in Mons (BE)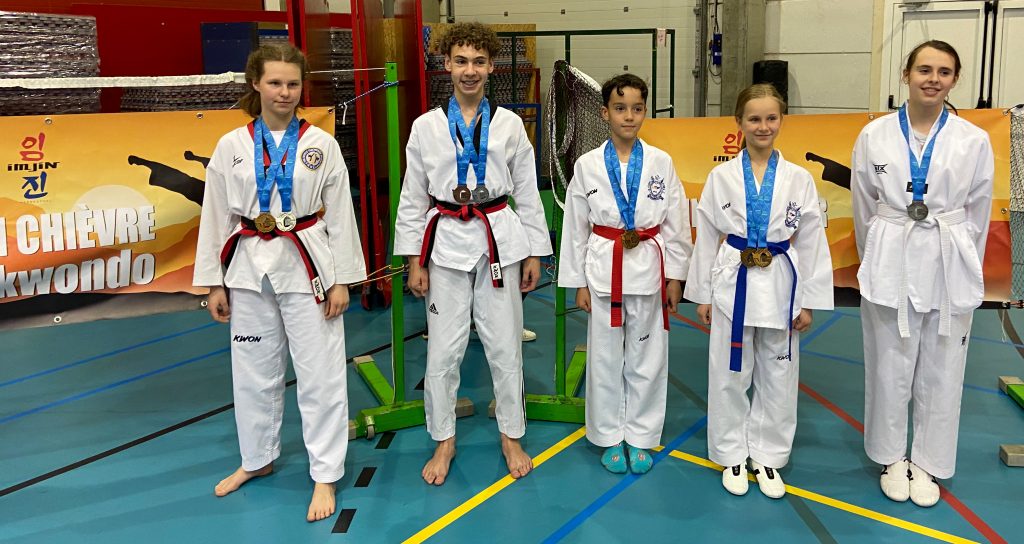 Mit 4 ersten, 2 zweiten und einem dritten Platz sorgten am letzten Samstag, dem 30ten April, die 5 Teilnehmer vom Taekwondo Verein Junglinster für einen regelrechten Medaillenregen bei der «4ième Coupe Hennuyère Poomsae» im belgischen Mons. Dabei waren die Wettkämpfe alles andere als Selbstläufer. In der Kategorie A Frauen 12-14 Jahre hatte die Teilnehmerin aus Junglinster am Ende lediglich 7 hundertstel Punkte Vorsprung auf die Zweitklassierte. Insbesondere aber hilft der direkte Vergleich mit 135 jungen Athleten aus Luxembourg, Belgien und Frankreich wichtige Erfahrungen zu sammeln.
«Unsere 3 Mädchen und 2 Jungs haben sich heute in Bestform präsentiert. Die gewonnenen Medaillen sind hochverdient!»
Aus Luxemburg nahm auch der Taekwondo Club Grevenmacher teil. Beide Teams aus dem Osten Luxembourgs unterstützen sich gegenseitig nach Kräften.
Platzierungen unserer Athleten:
Goldmedaillen: Kategorie B; (f) Einzel; 9-11 J; Delfie Majerus
Kategorie B; (m) Einzel; 9-11 J; Joshua Kaell
Kategorie A; (f) Einzel; 12-14 J; Lucie Majerus
Kategorie B; Paar; 9-11 J; Delfie Majerus und Joshua Kaell
Silbermedaillen: Kategorie D; (f) Einzel; 15-17 J; Laury Schott
Kategorie A; Paar; 12-14 J; Lucie Majerus und Etienne Sondé
Bronzemedaillen: Kategorie A; (m) Einzel; 12-14 J; Etienne Sondé
COME TO US, HAVE FUN, MAKE NEW FRIENDS AND GET RID OF YOUR STRESS!
TEST OUR CLUB. EVERYONE GETS 3 FREE PRACTICES TO CHECK OUT THE CLUB BEFORE BEING REQUIRED TO PAY!
We remind you that a medical sport control is mandatory for all athletes who wish to obtain or extend a license of a sports federation.
At the first examination for the issue of a license, the athlete must be 7 years old or reach 7 years during the year. After that, it's necessary to repeat the examination at the age of 12, 15, 20, 30, 40 and 50.
The examination may be carried out at any medical center of your choice (the website is only available in French).
NEW MEMBERS: you will receive you login information once your membership is confirmed and your annual due is paid.